The aims of the English Curriculum at Stockingford Academy are:
To build spoken language skills, developing speakers who communicate with clarity and confidence in a range of meaningful contexts
To broaden vocabulary and instigate a curiosity about words
To inspire a love of reading
To develop fluent readers who read for enjoyment and for information
To celebrate a diverse range of authors, poets and texts from Britain and across the globe
To develop excellent writers who write with clarity, accuracy and coherence for a range of purposes and audiences
To build transcriptional knowledge and skills including grammar, punctuation, spelling and handwriting.
Delivering of English lessons at Stockingford Academy:
Early Reading and Writing skills start in Early Years, where children are taught communication, language and literacy through engaging learning opportunities based on stories, non-fiction, rhymes, and poems. Children listen to stories linked to topics and complete engaging learning tasks based on texts.
In Years 1-6, English is planned and delivered following the Inspire Education Trust's own English long-term plan. Children's skills as writers are developed through cohesive units of work based around high quality texts or writing genres, building to purposeful writing opportunities. Children learn to write for a range of purposes, including:
Writing to narrate
Writing to describe
Writing to inform
Writing to persuade
Writing to recount events
Writing to explain
Writing to perform.
Knowledge and application of core grammar and punctuation skills are built into English units and progress within and across year groups. Cross-curricular application of writing genres and skills is embedded within Theme, Science and RE units.
From Nursery to Year 6, chosen texts ensure coverage of classic stories, contemporary fiction and a range of traditional tales, including myths and legends, within each year group, and texts have been mapped to ensure progression across the school. Core texts are written by a diverse range of high-quality modern and classic authors, including Malorie Blackman, Julia Donaldson, Philip Pullman and Marcus Sedgwick.
Reading at Inspire:
Our approach to the teaching of reading ensures focus on both of the key dimensions needed to become effective readers – Word Reading and Language Comprehension.
Word Reading:
Phonics is the predominant way we teach Word Reading and we use Read Write Inc. as our DfE-validated systematic synthetic phonics programme. In Reception, Year 1 and Year 2 (until children are ready to come off the programme), children take part in daily group-based phonics sessions led by highly trained adults.
What is Read, Write Inc. Phonics?
Read, Write Inc. Phonics (RWI) is is the UK's leading synthetic phonics programme which allows children to complete a systematic synthetic phonics (SSP) programme through sufficient support for children to become fluent readers.
Phonics matches the sounds of spoken English with individual letters or groups of letters. For example, the sound k can be spelled as c, k, ck or ch. Teaching children to blend and segment the sounds of letters together helps them to decode and encode unfamiliar or unknown words by sounding them out.
The programme is finely attuned to ensure children become fluent readers who are independently motivated. Through engagement with the Read, Write, Inc. systematic, synthetic Phonics programme, children learn the following:
Letter Sounds- Children 'see a letter and then say the sound it represents' so that they can 'sound out' a wide variety of words (e.g. sat, pin, pat).
Blending- Children are taught how to blend individual sounds together to say a whole word. They will start with CVC (consonant, vowel, consonant) words such as sit, pan, tap, before moving on to CCVC words (e.g. stop, plan) and CVCC words (e.g. milk, past)
Digraphs- Once the children have learnt individual letter sounds, they will start learning to read and write digraphs. These are referred to as 'special friends'. Alongside this, children should be introduced to 'tricky words' (also called common exception words).
Alternative graphemes– Once children are confident with the above, they will start learning more graphemes. They will learn that one sound can be represented by different graphemes. Alternative pronunciations for graphemes will also be introduced, e.g. 'ea' in sea, head and break.
Fluency and Accuracy– By this point, children should be able to read many familiar words automatically and sound out unfamiliar words. They should be able to spell words phonetically, but not necessarily correctly.
Why do we use Read, Write, Inc. Phonics?
At Inspire Education Trust, our approach to the teaching of Reading is based on the Simple View of Reading: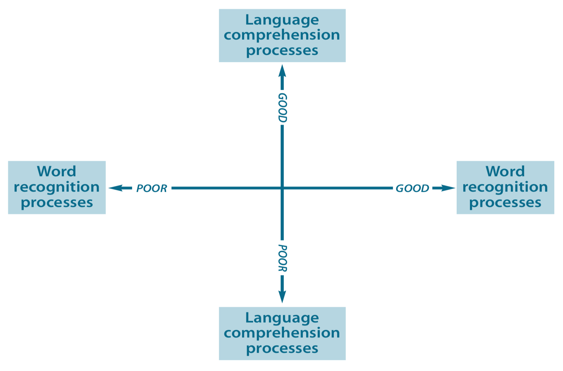 Read Write Inc. focuses primarily on teaching word reading to support children to become fluent, independent readers at word level. Children must continue to practice reading through their engagement in fully decodable phonic texts (100% decodable) on a daily basis to develop speed, fluency and comprehension within their reading.

The Read Write Inc. Fresh Start Programme is a Phonics intervention delivered to identified children in Key Stage Two. It is proven to accelerate progress in reading and writing. Using the same principles of RWI, children are taught to read accurately and fluently with good comprehension, to spell correctly and compose their ideas for writing step-by-step.
Comprehension:
We employ various approaches employed to develop children's comprehension of texts and overall love of reading. These include:
Modelled/shared reading
Daily Supported Reading / Guided reading
English lessons
Story time
Children develop skills in visualising texts to support depth of understanding, and are taught how to demonstrate their comprehension in a variety of ways. Reading teaching focuses on developing children's abilities to explain word meanings, retrieve, infer, summarise, predict and make comparisons between texts they read.
Core Text to Support English Teaching: